Welcome to the Book by Book Newsletter
February 2023! 
*(P.S. I realize February is almost over but had to sneak this post in!)
Book by Book is for parents, grandparents and caregivers–basically anyone who loves to read and share great books with kids! I hope you'll find this information useful and fun.
Below you'll find Book Descriptions, Reader Tips and Fun Inspiring Things. Simply click on the links to get to the author or illustrator's page or to Amazon. Happy reading!
Check In and Some Pics
I'm an avid reader and have books all over the house. I'm always reading. How about you? I recently read three so far by adult author Barbara Delinsky: A Week At The Shore, Sweet Salt Air and Blueprints, all taking place in New England. Great contemporary fiction with a little romance. I'll go back for more! Got any favorites?
Being an out door gal I love taking pictures, so I'll probably share at least one with you each month. The one below is just after sunrise looking across my backyard. We have some truly beautiful scenes!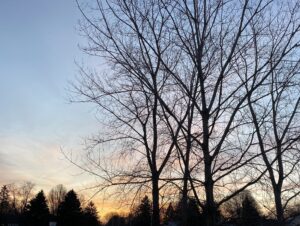 February Book Choices
Each month I'll be sharing 3 books that lead to an easy conversation, connection, or a creative activity. Let me know in the comment box below what other books you've found that do the same.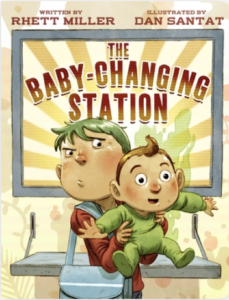 The Baby Changing Station by Rhett Miller, Illus., by Dan Santat/Fiction/Ages 6-8
James is ten and likes being with his mom, dad and his dog. For his whole life it's just been the three of them. When his brother, Joe, is born, life immediately changes. James feels like he's in the way and his frustration is growing. His parents seem fascinated by Joe's potty and eating achievements, but James just finds it confusing. So he decides Joe has to go. He gets his chance one night at dinner at their favorite pizza joint when he's asked to change Joe's diaper. At the changing table, James notices a large TV like screen above his head magically offering some enticing ideas. What will James decide? Told in rhyme with fantastic illustrations, this book offers lots of avenues for conversations about making decisions as a big brother.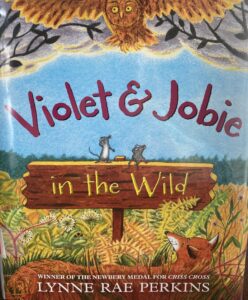 Violet & Jobie in the Wild by Lynn Rae Perkins/Author & Illustrator/Fiction/Ages 7-9
Violet and Jobie, sibling mice, have been living a comfortable life in a human's home, hiding in various nooks around the house. They are always together and appreciate each other's survival abilities and talents. But the humans have decided it's time for no more mice. After being caught in a box trap, they're carted away and set free in a place with tall grasses and many trees. The boy asks his mother how they'll survive and she tells him they're wild animals and they'll figure it out. Can they?
Out in the open means being prey to owls, fox and large birds. It means hearing strange noises in the grasses and discovering animals they've never seen before. Well, Violet is pretty good at knowing most of them as she watched a lot of nature TV in the human house. But where in the wild do house mice live to stay safe? After a bit, they meet a much older and wiser mouse named Zolian. He teaches Violet and Jobie the A.B.C.'s and D.E.F.'s for staying alive:  "Always Be Careful" and "Don't Exit the Foliage". He also tells them how to burrow a tunnel, what foods they can eat and where to find them. Over time, Violet and Jobie settle into living in the wild. They learn to not only navigate their outer world, but also their inner world as their sibling relationship changes.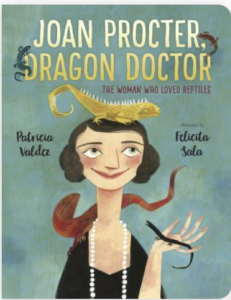 Joan Procter, Dragon Doctor by Patricia Valdez/Illus., by Felicita Sala/Nonfiction/Ages 6-9
When Joan Proctor turned 10 in 1907, she began a love for reptiles, specifically lizards and snakes. For her 16th birthday, she even got a small crocodile as a present. All her studying and fascination for these animals led her to become the first woman curator at the Reptile House in London. Read more about her amazing service work to those animals and how she bonded with a 7′ Komodo dragon named Sumbawa.
Reader Tips
Connecting with a book is great! The best ways I've found for children to do this is through conversation or creative and playful activities. My ultimate goal as a mother and former teacher has always been that a child leaves a book with a smile and wanting to read another. On that note, I offer some ideas. Take what you like!
The Baby-Changing Station: How does the author and illustrator show James's frustration? How did James make his final decision about Joe?
Violet and Jobie in the Wild: Violet and Jobie are mice, but they act like humans. What kind of situations make them act like us?
Joan Procter, Dragon Doctor:  Draw your pet (or one you wish you had). Now draw Sumbawa. Are they alike or different? How?
What other ways did you think of to connect your reader to the books? 
Fun and Inspiring Things
Nonfiction Fest

 is a month long dive into nonfiction authors, their books and conversations about techniques and ideas they use to write their books. There's a post every day. I discovered this site last year and found it wonderful for teachers, writers and anyone who likes nonfiction books. You'll find lots of great books at this site.

Tell a Fairy Tale day is on Sunday, February 26th. At this site, you'll learn all about this day along with the history of how fairy tales began, FAQ's and creative kid ideas for telling one's own fairy tale.
Let me know what new nonfiction books you discovered or if your child created his or her own fairy tale. 
Thanks for being here. I love to hear from readers, so feel free to leave a comment. See you in March!
Reading with you,
Maureen
(Edition 1)