Book by Book Newsletter~
Sharing Great Books
March 2023
Book by Book is aimed at parents, grandparents and caregivers–basically anyone who loves to read and share great books with kids! I hope you'll find this information useful and fun.
Below you'll find Book Descriptions, Reader Tips/Conversation Starters and Fun Inspiring Things. Simply click on the links to get to Amazon or the author or illustrator's page. Happy reading!
Check In, A Pic and "One for the fridge" (Joke time)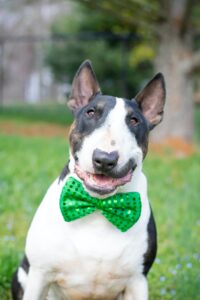 Photo by Katy Bernotsky
It's March already! The first day of Spring is a few weeks away even though in my area it still looks distinctly like winter. But our weather is so fickle that who knows what next week will be?
Monthly pic: I had to include a dog pic and you can see the color tie it's wearing so…Happy St. Patty's Day! 
"One For the Fridge" (joke by countryliving.com): "What do you call a frog that jumped into a pot of gold? A leap-rechaun." The kids might  be saying it all day–sorry!
March Book Choices
Each month I'll be sharing 3 books that lead to an easy conversation, connection, or a creative activity. Let me know in the comment box what other books you've found that do the same!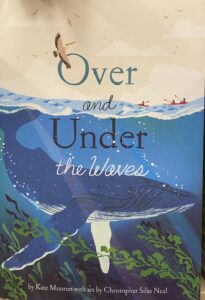 Over and Under the Waves by Kate Messner, Illustrated by Christopher Silas Neal /Narrative Nonfiction /ages 7-9
This story is told in alternating phrases of  "Over the waves…" and "Under the waves…" as the reader follows a child and his parents on a canoe ride to the ocean where the family discovers all kinds of sea life above and below the water. They watch sea lions slip from rocks back into the dark water, an otter mother and baby floating cozily among the green kelp, and seagulls lifting on the air and circling for food. And there's much more. At the end, just before turning home, the family sees humpback whales break the surface for air and then plunge back down to the deep. Later, the child falls asleep to the "shushing" sounds of the ocean.
This book shows the connectedness between the ocean animals and plants, all relying on each other to survive. If you've got children who love the ocean, this book would be a great story introduction and/or addition to your collection. In the back is an "Author's Note" by Kate with the inspiration for the book, which included time spent at Monterey Bay Aquarium and boating in Monterey Bay. Following that is a wonderful list of sea animals with illustrations and information about them.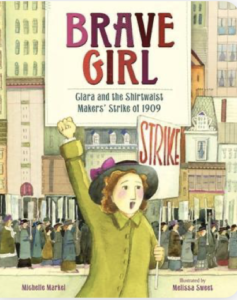 Brave Girl Clara and the Shirtwaist Makers' Strike of 1909 by Michelle Markel Pictures by Melissa Sweet /Biography/ ages 7-10
In honor of National Women's History Month, I thought I'd share this book about Clara Lemlich. She and her family arrived in New York City from Eastern Europe over 100 years ago. When her father couldn't find work, Clara soon got a job at a garment company. These companies hired girls to make women's clothing like blouses, nightgowns and coats. However, working conditions were horrendous. If the girls got hurt on the job or were late, their pay was cut in half. Many girls didn't know English and didn't know what to say to help themselves. Clara wanted to learn English, though, and so she studied at night after long days of work.
Over time, Clara's anger increased with the working conditions at these factories. She started speaking out at local union meetings and gathered strength in numbers with other female workers. Those numbers grew and the women eventually went on strike. They also organized many marches while enduring much abuse along the way, but they and Clara never gave up. In 1909, Clara headed the "largest walkout of women workers…" in the history of our country. She was one brave soul! At the end of the book you'll find some history of the garment industry and the changes that occurred as a result of the strikes.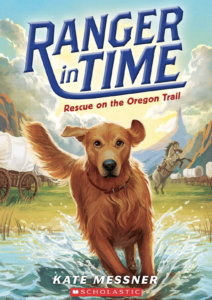 Ranger in time Rescue on the Oregon Trail by Kate Messner Illustrated by Kelly McMorris/ Historical Fiction /ages 8-10
Ranger in Time is a fantastic series for kids who love adventure, dogs and history! Set in present day, Ranger is a family dog who loves to dig and chase squirrels. Because of his squirrel chasing, he didn't pass his search and rescue test. But he still remembers how to find people. One day he unearths a metal first aid box in his backyard that vibrates with a strange sound. As the sound gets louder and a bright light surrounds him, Ranger is swooped back in time to the year 1850. He befriends a boy named Sam, the oldest son of the Abbot family. They're traveling west from Missouri to Oregon in a caravan of covered wagons. Throughout their arduous journey, they soon come to rely on Ranger several times for his heroic help. After the story, there's an author's note about Kate's research, including a picture of an 1866 diary written by a young girl traveling west with her family. It's a fun series for the adventurer and dog lover in us all. (This is book 1 of the series.)
Reader Tips / Conversation Starters
Connecting with a book is a special bond! When a reader leaves a book with understanding and a smile, then a relationship has begun. The best ways I've found for children to do this is through conversation or creative and playful activities. Below are a few suggestions that can lead to discussions and maybe more with your reader. As always, take what you like!
Under and Over the Waves: How do the plants and sea animals need each other to survive? Draw a favorite sea animal. What does it need to live in the ocean?
Brave Girl Clara and the Shirtwaist Makers' Strike of 1909: How does Clara stand up for herself and her fellow workers? Describe it. Have you ever had to stand up for yourself?
Ranger in Time Rescue on the Oregon Trail: What do you know about rescue dogs? What's their job? How did Ranger act like a rescue dog back in 1850?
What other ways did you think of to connect your reader to the books? 
Fun and Inspiring Things
Besides St. Patrick's day, there's a lot of other things going on this month. I've listed three areas that might be of interest to you or your children. Enjoy!
Thanks for being here. I love to hear from readers, so feel free to leave a comment. See you in April!
Reading with you,
Maureen
(Edition 2)